In this age of digital marketing, old forms of advertising like out-of-home (OOH) advertising are becoming even more effective than before. Businesses can now use digital out-of-home advertising to get the attention of their target audience, even at the busiest metropolitan locations. These ads can now be seen in huge digital billboards, transit locations, and even street furniture like bus shelters or benches.
Digital OOH advertising can be a powerful tool to showcase brand creativity, yield faster results, and reach more people. OOH advertising is still popular because it incorporates physical media formats that can't be blocked or skipped. Are you thinking of investing in OOH ad campaigns too? We've listed the best practices to help you perfect it.
1. Plan your ad timing
The first thing you need to consider is the time that you want to reach your target audience. Your messaging's seasonality plays a significant part in your OOH advertising. By knowing the right timing, you can better inform your campaign's crucial aspects. For one, during the consideration phase, your campaign should be visibility-driven. You'll need memorable messaging and recognizable branding.
As for the purchase intent phase, the messaging should be instructional and specific. Your customers should be guided on how to follow through with a purchase. If you want your media to perform best, ensure it reaches while your customers are shopping or when they're ready to make a purchase.
2. Choose the best placement
Selecting the right placement is a no-brainer in advertising. Brands create ads to promote their new products or services, so it only makes sense to focus on finding the best media space. For this, you need to consider that market area's nature. For instance, street-level messages are ideal if you're opting to put a campaign in a metro market that can be seen by slow-moving cars and pedestrians.
At the same time, consider the audience's behaviors like their daily journey from or to work. Travel patterns can better inform the ad space you'll buy. If you want to optimize eyes-on and exposure for your OOH ads, align the nature of the market with the audience's behavioral tendencies and travel patterns.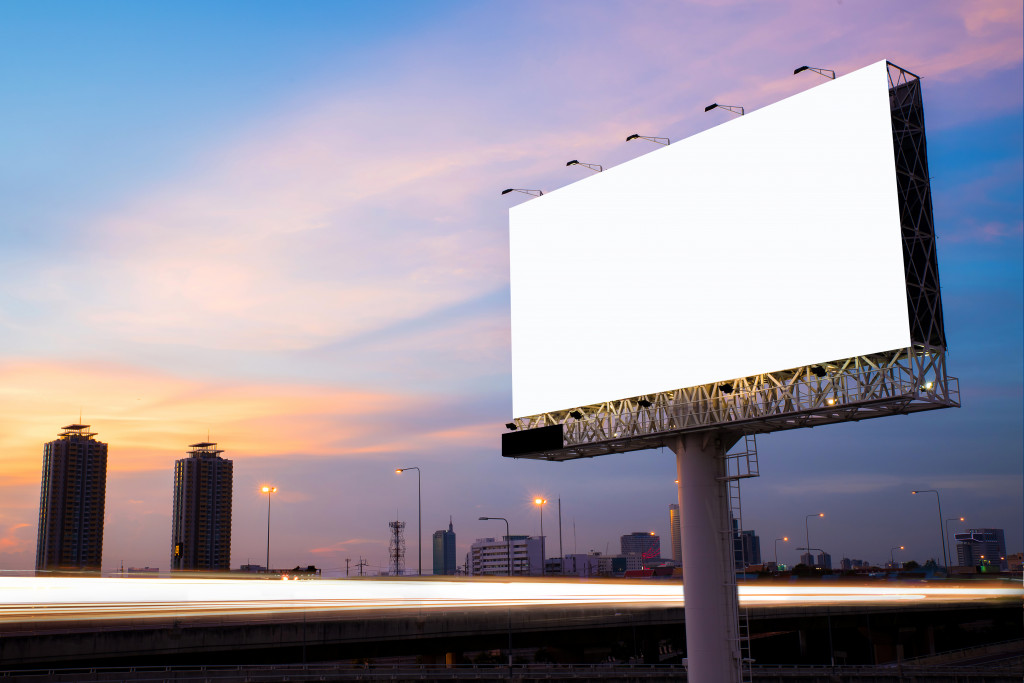 3. Focus on your creatives
Creatives are a critical part of an OOH ad campaign. Your OOH creative should complement that campaign on your other channels. This allows you to get the message across and direct the audience to the buyer's journey. For example, it's recommended to use analogous color schemes for digital displays. Placing together complementary colors isn't a smart choice for screens.
You can also incorporate movement to boost creativity in your digital OOH. Most brands use subtle motions to get the viewer's attention. Other creative elements to consider are relevant content, interactive technology, vibrant images, and clear, readable fonts.
4. Decide on the format
The most popular media format these days is digital OOH. This option requires no physical materials and production time, which means you can implement it easily. However, digital ad media requires relevant skills and knowledge about creating amazing visuals in the campaign videos.
Many brands, especially SMEs and MNCs, consult digital marketing agencies to create narratives, stories, and other content for their digital OOH. Hiring experts can guarantee that your campaigns will reach your target customers and encourage them to take action. Besides digital OOH, there's also the static format. These older OOH placements are still effective, particularly if you want to put an ad that's always turned on. The target audience can't miss it.
5. Track the campaign success
Not tracking the success of an ad campaign is a big mistake you want to avoid. The good news is, outdoor campaigns can be monitored digitally. Tracking your OOH campaigns can help you check if your messaging, media format, and placement is on point. One easy way to do this is by creating a landing page or displaying a social media link on the poster or billboard.
You can determine the ad's success by every online visitor who checks out the provided links or website. Other brands use hashtags to see home many individuals have noticed their ads. If you want to encourage more people to respond to your OOH ads, you can offer unique promotional codes with exclusive discounts and offers.
Out-of-home advertising in places like Singapore will never go out of style. It continues to evolve and offer modern ad features to both brands and their customers. Other amazing perks of using OOH advertising include highly targeted formats, more creative options, better online engagement, and increased consumer actions. Follow the best OOH practices in our guide for a successful advertising campaign.